The teenager at the centre of the Latrell Mitchell racism saga has reportedly claimed his alleged racial slur wasn't racially motivated.
Speaking on condition of anonymity owing to the ongoing police investigation, sources told The Sydney Morning Herald there were conflicting reports of what happened at halftime of Thursday night's clash at BlueBet Stadium between South Sydney and Penrith.
It is unclear as to whether the conflicting accounts dispute the use of the reported 'black dog' slur itself, or whether the slur was made without a racial motivation.
The boy, identified as wearing a Sydney Roosters jersey over a hoodie, hid and fled the scene on foot after Rabbitohs players called on stadium security to intervene after Mitchell reacted to the alleged slur.
Watch every game of every round of the 2023 NRL Telstra Premiership Season LIVE on Kayo Sports. New to Kayo? Start your free trial now >
The alleged slur itself, 'black dog', has a long history of use as a racial pejorative, with African-Americans in particular denigrated with the term on record as far back as the 1840s, with 'dog' a common insult dating back to Ancient Greece.
While it is unclear what the non-racially-driven motivations may be for an alleged insult that invokes someone's colour, sources claimed there is no audio of the incident and the camera that followed the players up the tunnel missed the actual incident itself.
According to The Daily Telegraph, the boy's father, who was sitting in a different area, reportedly stayed behind to talk to police about the incident, saying his son "shouldn't have said what he said."
NRL chief executive Andrew Abdo was unequivocal in his response on Friday morning, calling the abuse "completely unacceptable".
While calling rugby league generally a game of "genuine inclusivity", Abdo said the "message to those outlying individuals (was) very clear.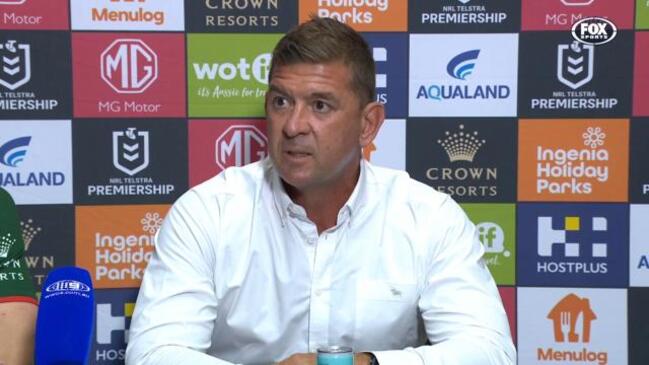 "You're not welcome in our game," he said.
"You're going to be called out. You're going to be called out by players, by fans, by officials and eventually it becomes eradicated."
Concerns have been raised that Mitchell consistently being on the receiving end of racial abuse in the league will lead to the star fullback's premature departure from the sport.
Souths teammate Damien Cook said "(the abuse) is why he might talk about being done at 30," with Abdo responding that it would be "incredibly disappointing" to see Mitchell depart the game as a result of the abuse.
"He plays such an important role off the field for the game," he said.
Race Discrimination Commissioner Chin Tan said the incident "shines a light on the systemic nature of racism.
"It highlights the urgent need for professional sports organisations, including clubs and codes, to work together to implement consistent and co-ordinated approaches."
More recently and in similar circumstances, former Swan Adam Goodes was infamously called an 'ape' by a 13-year-old girl in a 2013 Indigenous Round clash against Collingwood, triggering a wave of racially-motivated booing of Goodes over the following two years that forced the two-time Brownlow winner from the game.
The girl in question was said to have not known the full meaning of the slur, again itself a well-known racial epithet, and her mother, identified in media at the time simply as Joanne, called on Goodes to "man up and just take it if he wants to play the game."
Mitchell himself has referenced the toll that Goodes' abuse took on him previously, after Mitchell was incessantly booed by Roosters fans last year.
"Adam Goodes gave up his career because of it," he said.
"It's not nice because we cop it every day as it is."
Souths coach Jason Demetriou committed to his call for fans found guilty of racial vilification to be banned for life on Sunday morning, saying there "has to be some kind of consequence toward what happened and some education".
"At the same time…we're talking about something we've been educating on since I was a kid and I'm 47 years old," he told Sky Sports' Big Sports Breakfast.
"What are we educating them on? It's an easy throwaway line to say we need to educate people, but what are we talking about?
"It's time for us non-Indigenous people to stand up and say we want to see some action against these types of offences.
"We all walk around saying we're not racist but it's there and it's time to admit that it exists."