Teen sensation Linda Fruhvirtova has equalised against Donna Vekic, claiming the second set 6-1.
After Vekic quickly secured the opening set, Fruhvirtova sucked up all of the momentum to turn the match on its head.
Both players made their way into the rooms at the break between sets, with Vekic receiving a time violation for taking too long to return.
During the break, Fruhvirtova voiced her frustrations at the delay to chair umpire Miriam Bley.
"She had five minutes, she should come back soon," Bley could be heard saying.
"And how long does she have left?" Fruhvirtova asked.
"I love this from the youngster, she saying, 'If I can go off and come back within a certain amount of time, where is my opponent?'," Liz Smylie said in commentary.
"And the umpire is doing her best to keep everyone up to speed here."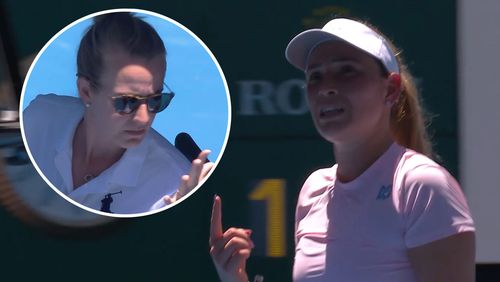 Vekic received two verbal warnings from Bley – one with a minute to spare and another at 30 seconds.
Upon making her way back onto the court, Vekic was confused as to why she was being penalised.
"Did you not hear me?" Bley asked her.
"No, I heard one minute. You didn't tell me," Vekic said.
"Don't give me a warning if she doesn't tell me."
"I'm just following the procedure," Bley said.
"The players all know what the regulations are, and the locker rooms are not that far away," fellow commentator Peter Marcato said.