Alex de Minaur says his comments on Novak Djokovic's injury were taken "out of context to make a headline, admitting he was "outplayed and outclassed" by the nine-time Australian Open champion.
Following Djokovic's straight-sets demolition of de Minaur on Monday night, de Minaur commented on how well Djokovic moved – and was asked whether the speculation about Djokovic's hamstring injury was frustrating during the match.
"I don't know. You tell me how you thought he looked out there," he said, with a wry smile.
Watch Tennis Live with beIN SPORTS on Kayo. Live Coverage of ATP + WTA Tour Tournaments including Every Finals Match. New to Kayo? Start your free trial now >
"Playing him, I thought he was moving pretty well, so… I don't know."
Asked how he prepared given the hamstring issue, de Minaur said: "Look, I don't know. I think everyone's kind of seeing what's been happening over the couple of weeks. It's the only thing everyone's been talking about.
"Today I was out there on court against him. Either I'm not a good enough tennis player to expose that, or… it looked good to me. He was just too good in all aspects."
In a post on social media on Tuesday, de Minaur said Djokovic was simply too good.
"I hate how media will always create controversy and take things out of context to make a headline," he wrote.
"Got outplayed and outclassed yesterday. How about we focus on the tennis for once. I will get back to work and improve you can count on that.
"Thank you Australia."
The Serb has been accused in the past of exaggerating injuries. Most recently, he spoke often about an abdominal tear suffered early in the 2021 Australian Open – though he cruised to the title while suffering from it, winning the final over Daniil Medvedev in straight sets.
After the 2015 final at Melbourne Park Andy Murray accused him of playing up an issue that was "not legitimate".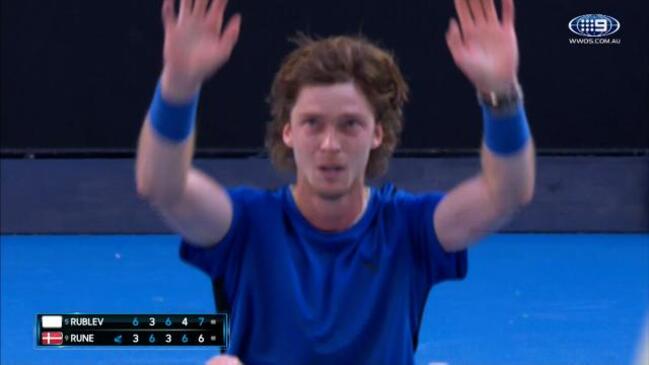 Djokovic said post-match he did not have any issues with the hamstring during the win over de Minaur.
"I didn't feel anything today. Today was great," he said.
"I thank my medical team, my physio. Thank God, anybody that really helped me."
While he was not asked about de Minaur's comments in his post-match press conference, Djokovic did expand upon the treatment he has been undertaking.
"We take it day by day. We do a lot of things actually. It's been honestly exhausting to be involved in a lot of different treatments and machines and stuff that we do," he said.
"At the same time it was necessary. It is necessary in order to get myself in a condition to play. So I'm really glad that my body has responded really well.
"Tonight I didn't feel any pain. I moved as well as I have the whole tournament. It means we are progressing in the right direction."
He added: "Certain movement was affected, particularly the extreme movements on the court, change of directions and so forth. Maybe people who were watching me play don't maybe get that idea. For me as a player, being on the court, I can feel the difference definitely.
"I guess you have to accept and deal with the fact that you have a certain amount of the pain, which is not an issue for me. The biggest issue was the unpredictability of what the next quick move can cause. That's what was my biggest concern because that's how I got injured actually before the tournament started.
"So those quick change of directions and movements have been in the first couple of matches tough for me. But tonight, no problem at all."
Originally published as 'Taken out of context': Demon hits back at Djoker injury comments after Aus Open beatdown